Teaming up With Local Leaders to Launch Sport for Good Chicago
CHICAGO – June 22, 2018 – Laureus USA and local Chicago Leaders, today announced the launch of Sport for Good Chicago (S4G Chicago), a long-term commitment to improving the lives of underserved youth in Chicago through the power of sport. By bringing together local nonprofit leaders, providing resources and facilitating collaboration at the local level, Sport for Good Chicago will ensure more children and youth have access to high quality, youth-centered sports programs. To support the launch of S4G Chicago, Laureus USA awarded grants to 7 local nonprofit organizations that use sport or physical activity to empower local youth.
Athletes from the Chicago Red Stars including Arin Gilliland, Stephanie McCaffrey, Alyssa Mautz, and Dani Coliprico helped kick off the initiative this morning at ChiTown Futbol with 100 children, ages 5 – 14 from America SCORES Chicago, one of the Chicago grant recipients.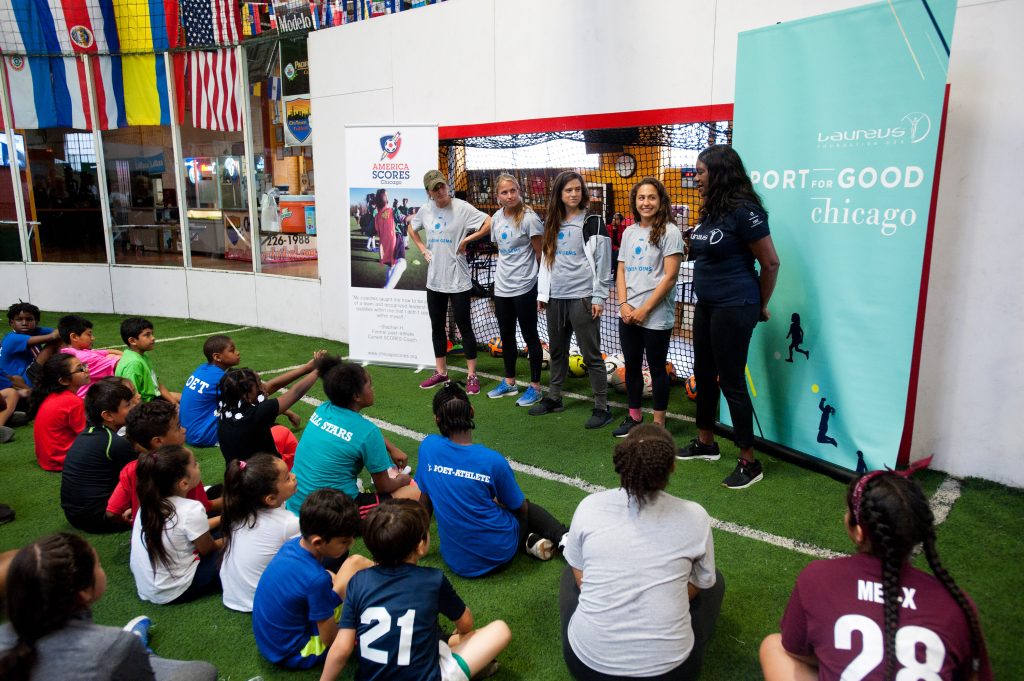 An evening reception recognizing the Chicago grantees and Leadership Council, which consists of leaders from 10 youth-serving programs who are committed to working together as a team to propel social change in Chicago, will be held at Wintrust Arena, home of the WNBA's Chicago Sky, followed by a WNBA game as the Sky takes on the Washington Mystics. Members of the Leadership Council include: Keri Blackwell, Chicago Cubs; Rob Casteneda, Beyond the Ball; David Flynn, We Coach; Colleen Harvey, Playworks Illinois; Alex Landberg, Chicago Run; April Lillstrom, Urban Initiatives; Jess Lopez, Up2Us Sports; Meghan Morgan, Girls in the Game; Amy Mummery, America SCORES Chicago; and LaVonte Stewart, Lost Boyz Inc.
"We are thrilled to bring our Sport for Good program into the Windy City, a city that is rich with sports and culture and one that will benefit greatly from key funding to help the city's at-risk youth gain access to sports-rich programs," said Benita Fitzgerald Mosley, CEO of Laureus USA and Olympic Gold Medalist in Track and Field. "We are also grateful for the support and teamwork of our Leadership Council who have come together over the past six months to address their city's concerns and finds ways to use sport as the solution. Our children are our future and sports have the power to bring kids together in a way that is truly extraordinary."
The Chicago announcement is part of the Laureus USA's #20×20 campaign, with a goal of bringing Sport for Good Cities program to 20 cities by the year 2020. In addition to Chicago, Laureus has Sport for Good Cities in New Orleans, Atlanta and New York City, with more cities to be announced in the coming months.  Laureus USA also spearheads the Sport for Good League, an online membership community that welcomes anyone passionate about using sport as a tool for social change to join the movement and collaborate online.
Laureus also announced early seed grants to organizations in Philadelphia and Los Angeles to begin the process of further growing the Sport for Good cities.  By propelling communities across the US to use sport to increase physical and mental health, improve educational and employment outcomes, and address critical social justice issues, Laureus USA seeks to give life to what their founding patron Nelson Mandela proclaimed: that sport has the power to change the world.
Sport for Good Chicago 2017/2018 grantees include: