Gatorade Partners with Laureus USA to Gift Woodcraft Rangers and LA Youth Access to Field Space through 2024
JJ Watt and DK Metcalf were a few of the NFL stars on the roster for a friendly flag football game in Los Angeles ahead of Super Bowl LVI. But it was 10-year-old Chelsea who stole the show, rushing for the longest touchdown that stunned everyone—including her own team.
"The smallest player scored," the students from Equitas Academy #2 said amongst each other.
One of Chelsea's friends ran up to her for a celebratory handshake they created, and it's those moments that Woodcraft Rangers CEO Julee Brooks said that the kids will remember for a lifetime.
"This is the first time since the pandemic that they were able to play outside of just their bubble," said Brooks, holding back tears when explaining to the five NFL players what the partnership with Gatorade and Laureus Sport for Good USA means.
"This is a big moment for their return to normalcy, for just having joy after these two really difficult years. And then to reunite like this, it's kind of a homecoming for kids to get back on the field and play again. The weight of these two years has been a lot on them."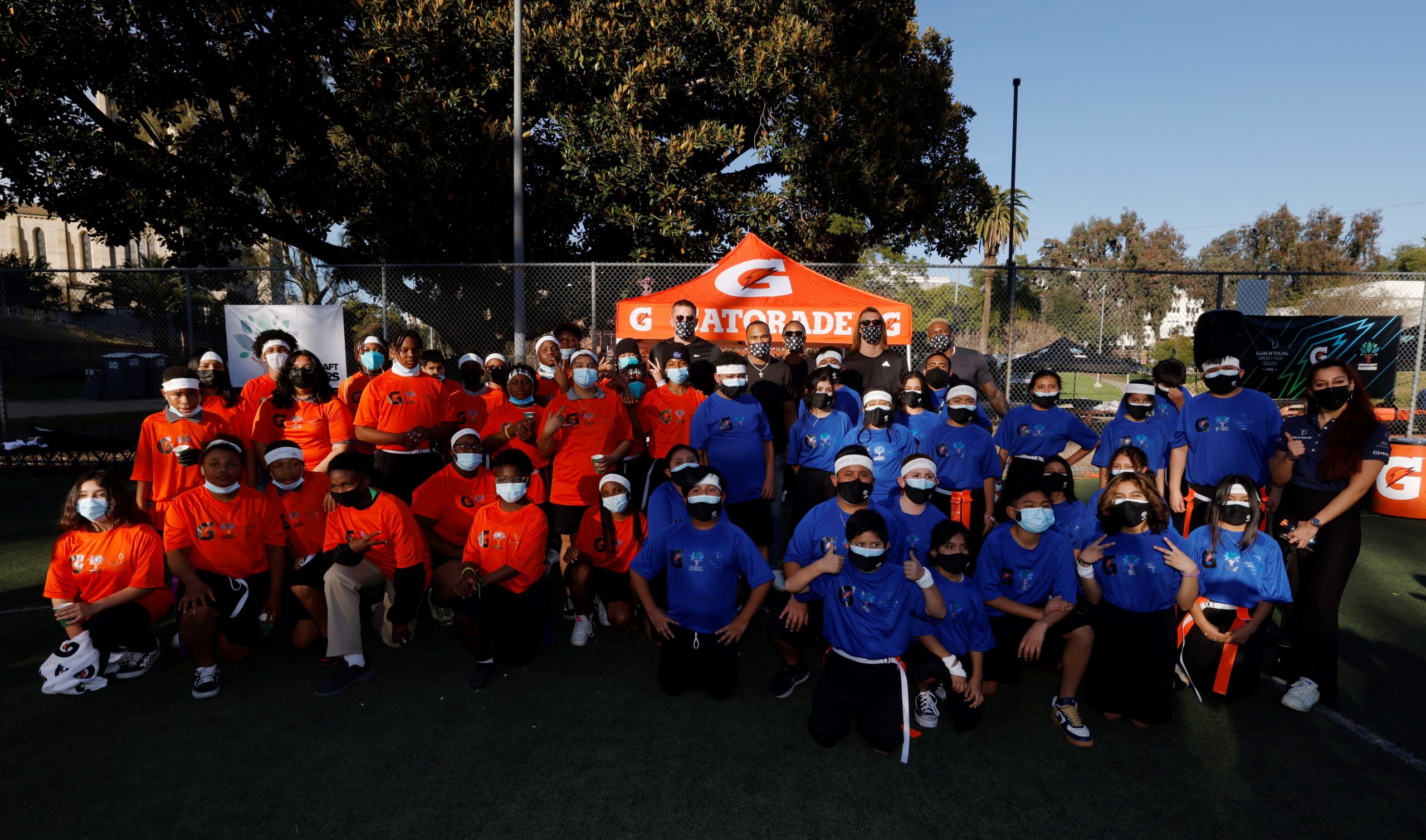 Gatorade brought together its athletes that also included Todd Gurley, Trevor Lawrence and now Super Bowl Champion Robert Woods, who teamed up to play with the kids – the other team hailing from Animo Compton Charter School. They answered questions, awarded students with medals and signed autographs. Beyond the two-hour experience, JJ Watt announced a bigger prize – that Gatorade will be funding Woodcraft Rangers' costs for field time and space until 2024 through a grant from Laureus USA. 
Woodcraft Rangers is an LA-based organization that serves 15,000 youth through enriching afterschool programs, sports and events. Brooks emphasized that space to accomplish their mission in serving kids is a real challenge in "the land of 1,000 neighborhoods."
"With the support of Laureus USA and Gatorade's gift, we can have access to more of this because this is not free," she said pointing to the turf field at Lafayette Park where the event took place. "There's a scarcity, especially in the communities we serve where there is very little green space. We bussed kids to this park because even in their communities there aren't always green space for miles sometimes. So we hope that we can give them more of that."
For the kids that day, they were living in the moment. Twelve-year-old Lyon from Animo Compton Charter School met one of his favorite NFL players Todd Gurley who complimented Lyon for his two interceptions.
"Ever since I was young, I liked sports, but COVID and everything just put a stop to that," Lyon said. "Today I just felt like it was the best way for me to show that I like getting active in sports. It felt like a minor setback like I couldn't do what I love and now that I'm able to do it, it just made me feel 10 times better and want to go 10 times harder."