About Jakob Johnson & The Jakob Johnson Fund
Laureus USA, Laureus Germany, and NFL player Jakob Johnson (fullback for the Las Vegas Raiders) proudly announce the Jakob Johnson Fund, an initiative to grant money to sport-based youth development organizations in areas where Jakob has a personal connection and wants to deepen his impact.

Originally born in Stuttgart, Germany, Jakob's family moved to Jacksonville, Florida his senior year of high school. Through the NFL's International Player Pathway program, Jakob was signed to his first NFL contract in 2019, and today plays for the Raiders.  
About True Youth Association
True Youth Association of Jacksonville, FL is a nonprofit sports-based youth development organization which offers football and basketball tailored to the player and the team needs, serving youth from kindergarten through eighth grade. They develop, support, and promote a wide variety of youth sports and educational programming with a focus on providing children with opportunities to grow as a student, player and more importantly as an individual.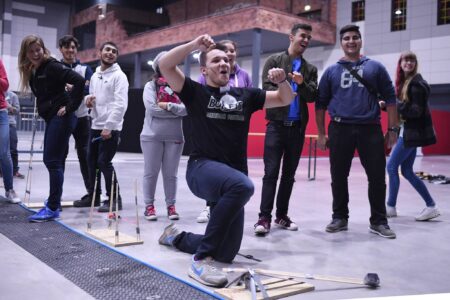 About move&do
Move&do, a programme in Stuttgart and Mannheim, Germany uses physical and mental endurance sports to create challenges for students at local schools that test their ability to problem solve. Through the programme, students can also partake in activities like rock climbing, high ropes courses, and white-water rafting. Team spirit is built from these environments as support is necessary to complete the tasks. Through participation, students learn that goals can only be reached by working together. 


Laureus USA is a 501(c)(3) nonprofit organization, with the tax ID number 30-0047132. Donations to Laureus USA are tax deductible for qualifying donors. You will receive an email that you can use to substantiate your donation for tax purposes.